Cookie-Einstellungen
Diese Website benutzt Cookies, die für den technischen Betrieb der Website erforderlich sind und stets gesetzt werden. Andere Cookies, die den Komfort bei Benutzung dieser Website erhöhen, der Direktwerbung dienen oder die Interaktion mit anderen Websites und sozialen Netzwerken vereinfachen sollen, werden nur mit Ihrer Zustimmung gesetzt.
Carry Glastrinkflasche 0,7 l | Structure of Life
MADE IN GERMANY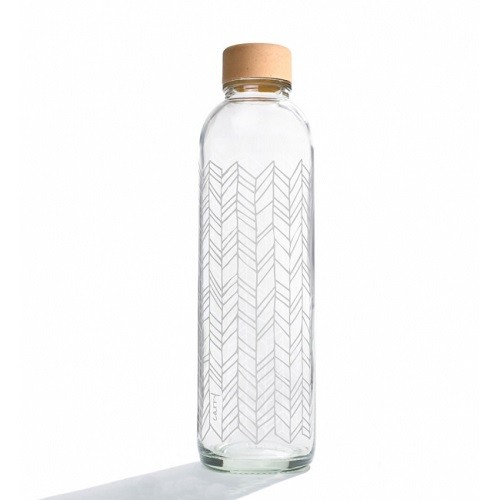 inkl. MwSt. zzgl. Versandkosten
Lieferzeit 3-5 Arbeitstage
wiederverwendbare Trinkflasche aus Glas | hergestellt in Deutschland | 100% BPA-frei | auslaufsicher | leicht zu reinigen
Beschreibung
Structure of Life
Blattadern versorgen das Blatt mit Wasser und geben dem Blatt Stabilität. Und so erinnern dich auch die kleinen weißen Blattadern auf der Trinkflasche jeden Tag daran, genug zu trinken und dabei neue Kraft zu schöpfen. Mit seinem verspielten und doch in schlichtem Weiß gehaltenem Muster verbreitet das Motiv STRUCTURE OF LIFE Natürlichkeit und Schönheit. Die Höhe der Flasche erstreckt sich über 26 cm und mit einem Durchmesser von 7,3 cm sowie einem Volumen von 700 ml ist die Trinkflasche handlich genug, um dich bei Spaziergängen durch die Natur zu begleiten und mit ausreichend Wasser zu versorgen.
Flasche
Glas ist ein natürliches Material. Es ist zu einhundert Prozent recyclebar, frei von Stoffen, die deine Gesundheit gefährden, Glas lässt sich gut reinigen und ist außerdem neutral im Geschmack. All diese Vorteile haben uns dazu veranlasst, Glas als Basismaterial für die Trinkflasche zu verwenden. Ihr besonders robustes Glas eignet sich für unterschiedliche Situationen deines Alltags. Das von uns verwendete Glas bietet Bruchsicherheit bei kleineren Stößen. Trotzdem bleibt Glas zerbrechlich, deshalb solltest du die Flasche vor Stürzen aus großer Höhe bewahren.
Verschluss
Der Schraubverschluss, bestehend aus biologisch abbaubaren Holzfasern sowie recyclebarem und schadstofffreiem Polypropylen, sorgt für komfortable Handhabung beim Öffnen und Verschließen der Trinkflasche. Damit sie absolut auslaufsicher bleibt, ist der Verschluss im Inneren mit einer herausnehmbaren Dichtungsscheibe versehen. Alle Materialien des Verschlusses sind frei von Weichmachern und Bisphenolen (BPA). Der Verschluss ist spülmaschinenfest.
Druck
Wir verwenden beim Bedrucken der Flaschen organische UV-Farben, die auf Glas besonders gut wirken und dabei ohne den Einsatz von Schwermetallen auskommen. Damit ihre Leuchtkraft besonders lange behalten, empfehlen dir, carry nur gelegentlich in die Spülmaschine zu stellen und lieber von Hand zu waschen. Einfach mit warmen Wasser und ein bisschen Spülmittel waschen, ausspülen, trocknen, wiederverwenden.