Cookie-Einstellungen
Diese Website benutzt Cookies, die für den technischen Betrieb der Website erforderlich sind und stets gesetzt werden. Andere Cookies, die den Komfort bei Benutzung dieser Website erhöhen, der Direktwerbung dienen oder die Interaktion mit anderen Websites und sozialen Netzwerken vereinfachen sollen, werden nur mit Ihrer Zustimmung gesetzt.
Friedensreich Hundertwasser: 6er-Set Weißweingläser BEAUTY IS A PANACEA
ars mundi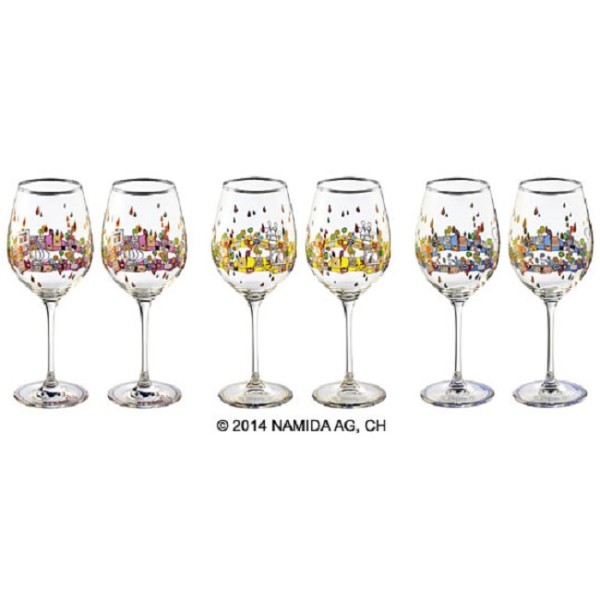 inkl. MwSt. zzgl. Versandkosten
ars mundi Exklusiv-Edition | handgefertigt | Glas | Platindekor | Höhe je 23,5 cm | Vol. je 0,2 Liter | Handspülung | Schmuckverpackung
Beschreibung
Für Hundertwasser sollte Kreativität nicht von einem Rahmen begrenzt sein. Das Werk eines Künstlers sollte in alle Lebensbereiche einwirken und auch die Objekte des Alltags erfassen, damit sie sich von der grauen am Fließband erzeugten Massenware, die uns umgibt, abheben und unseren Alltag bereichern.
Ein Festival der Sinne - Lebensart für höchste Ansprüche:
In Zusammenarbeit mit der Königlich privilegierten Porzellanmanufaktur Tettau entsteht exklusiv für ars mundi diese Weinglas Edition von feinster Qualität: Die Motive von Friedensreich Hundertwasser werden dabei in einem aufwendigen, in seiner Art einzigartigem Spezialverfahren auf Glas übertragen.
6 Weingläser mit Platinrand im Set:
Insgesamt 3 Künstlermotive. Werknummer PM XIX/1, PM XIX/3 und PM XIX/5. In aufwändiger Manufakturarbeit gebrannt. Bis zu 20 Transparent-Farben mit Platinelementen auf edlem Glas. Höhe jeweils 23,5 cm, Vol. je 0,2 Liter. Handspülung empfohlen. Jedes Weinglas aus der Hundertwasser Weinglas Edition ist ein Markenobjekt von herausragender Spitzenqualität und wird in einer dekorativen Schmuckverpackung geliefert.
Die einmalige Hundertwasser Weinglas Edition ist ein ideales Geschenk von höchster Qualität - geschaffen für die schönsten Momente des Lebens...
Copyright 2014 NAMIDA AG, CH
Die abgebildeten Werke sind urheberrechtlich geschützt. Es ist insbesondere nicht gestattet, diese Abbildungen zu kopieren, zu bearbeiten, auszudrucken oder zu veröffentlichen. Zuwiderhandlungen werden straf- und zivilrechtlich verfolgt.
The displayed works of art are protected under the copyright. In particular, it is not permitted to reproduce, to alter, to print or to publish these works of art. Violations will be prosecuted according to civil and criminal law.